Community Based Solutions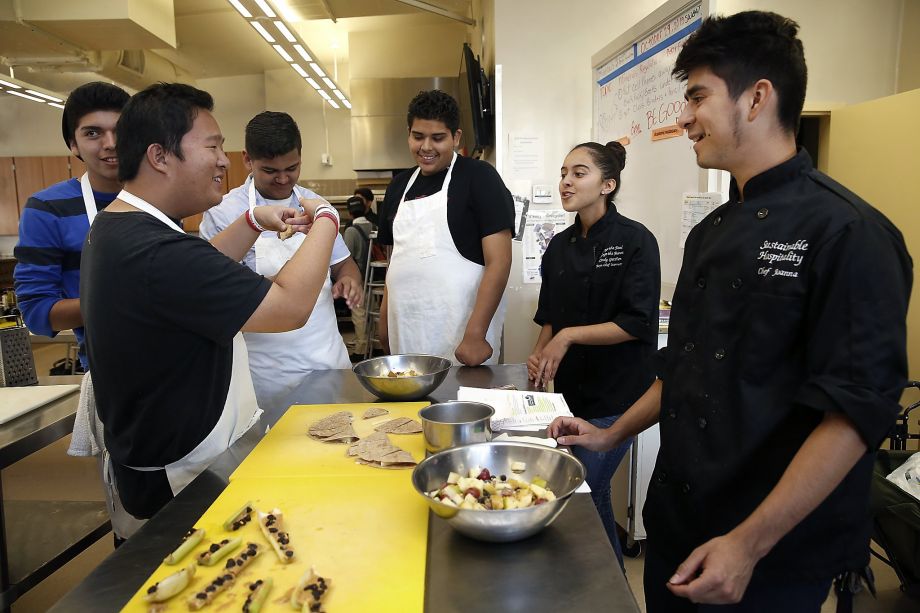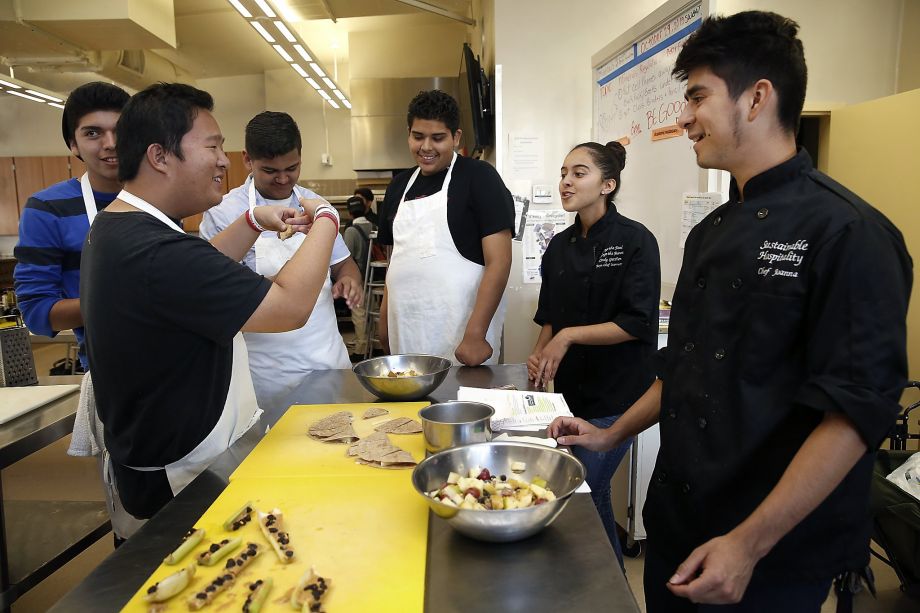 Cindy Gershen is doing amazing work in one of the lowest income schools in the San Francisco Bay Area… teaching high school kids how to cook and pursue careers that improve health and the environment.
Chef Cindy Gershen – Mount Diablo High School, Concord, CA
Chef/Teacher Cindy Gershen, founder of Walnut Creek's Sunrise Bistro and Catering restaurant and non-profit Wellness City Challenge, has created a remarkable Sustainable Hospitality Program focused on the science of food through culinary, hydroponics, and nutrition education. This program has become an integral part of the curriculum at Concord's Mt. Diablo High School as an Innovation Center for programs that can be replicated throughout our District and State. Chef/Teacher Cindy's education programs take a prevention approach to the obesity/diabetes epidemic occurring in the nation.
She prepares young people for employment as professionals in the healthy food service industry which includes promoting "state of the art" growing techniques utilizing controlled environment agriculture via vertical tower gardens in a classroom and outdoor environment. Her education programs are remarkably effective in creating social change because they merge theories and principles with hands-on professional level activities. Students are taught to prepare nutritious meals that are served to other students including the campus sports teams and faculty members. The curriculum incorporates the "do no harm" revolution that is taking place in the hospitality industry promoting standards of business that are good for the environment, workers, and consumers. Cindy continually gives students the message that they should "Eat well to be well out in the world."
Cindy's senior class focuses on Career Technical Education (CTE) through topics such as farm to table/farm to cafeteria with hands-on experience in the process of planting, growing, and harvesting produce and entrepreneurship through catering. Her students also promote health and wellness through a district wide "Water Drinking Campaign". Through her non-profit, Wellness City Challenge, an after-school program has been launched to support at-risk youth covering topics such as nutrition and culinary education, personal empowerment, and entrepreneurship.
She continues to expand her youth education programs including a recently launched 4th grade culinary, growing, and nutrition education program. In her new role as a Teacher on Special Assignment (TOSA) for Mount Diablo Unified School District, she will be launching Educatering which will support the healthy food needs of the cafeteria (through student driven recipes and products and reducing waste by providing non-packaged, non-processed healthy food), school administrative staff, and the local community.
Her goal is "Teachers are in the best condition to teach, and students are in the best condition to learn."
Her non-profit, Wellness City Challenge, also hosts the Annual Contra Costa County Mayors' Healthy Cook-off bringing leaders together as advocates on building a healthy community through the education system. Students from her education program are teamed up with local officials as "sous chefs".
Several state and local groups have given Chef/Teacher Cindy Gershen awards for her health and wellness advocacy including California Assembly District 14 "Woman of the Year". She is also co-author of the The Fat Chance Cookbook (Hudson Street Press January 2014) with Robert H. Lustig, MD, a Professor of Pediatrics in the Division of Endocrinology at University of California, San Francisco (UCSF), Director of the Weight Assessment for Teen and Child Health (WATCH Program at UCSF), and author of the bestselling book Fat Chance: Beating the Odds Against Sugar, Processed Food, Obesity and Disease.