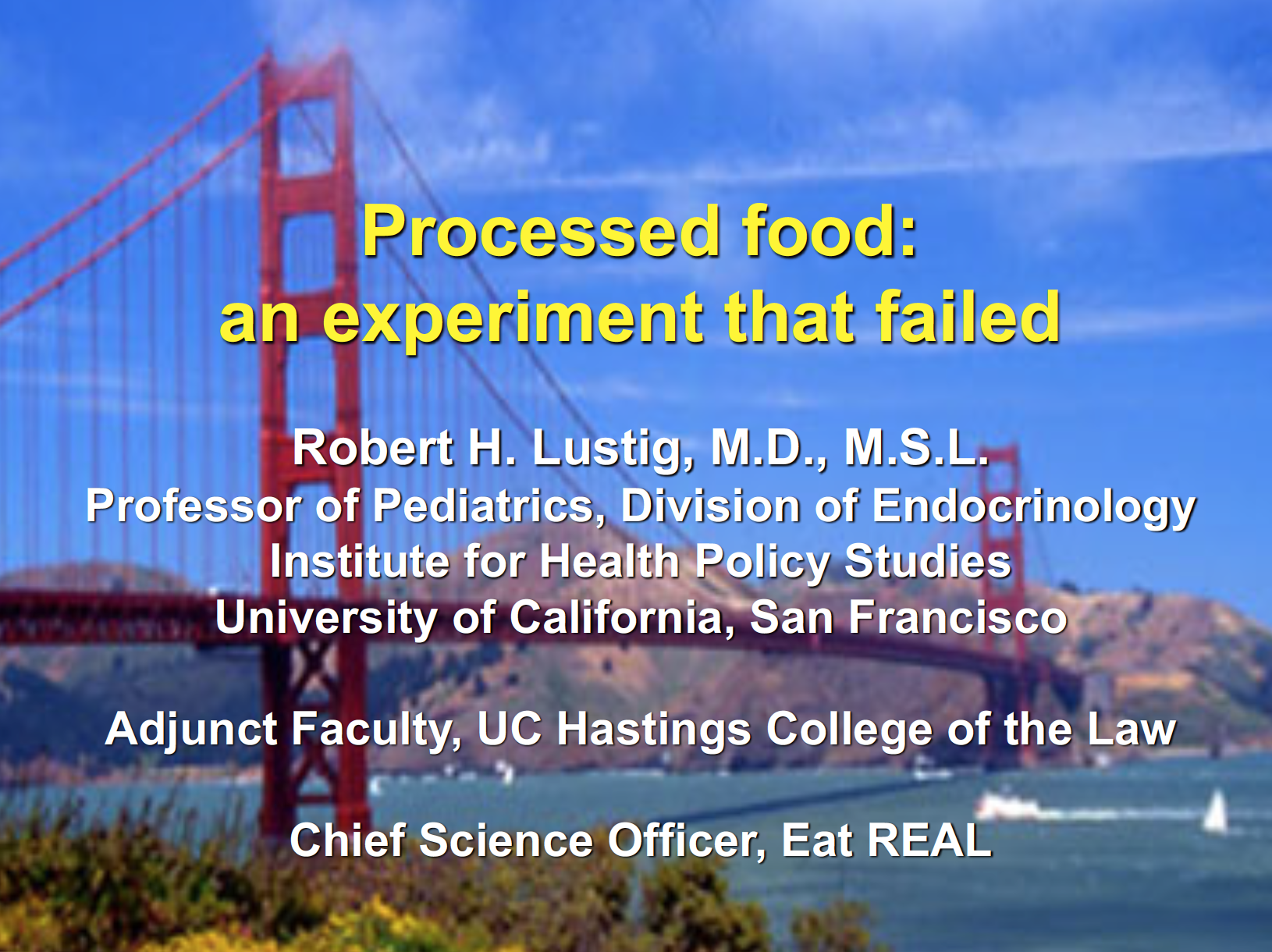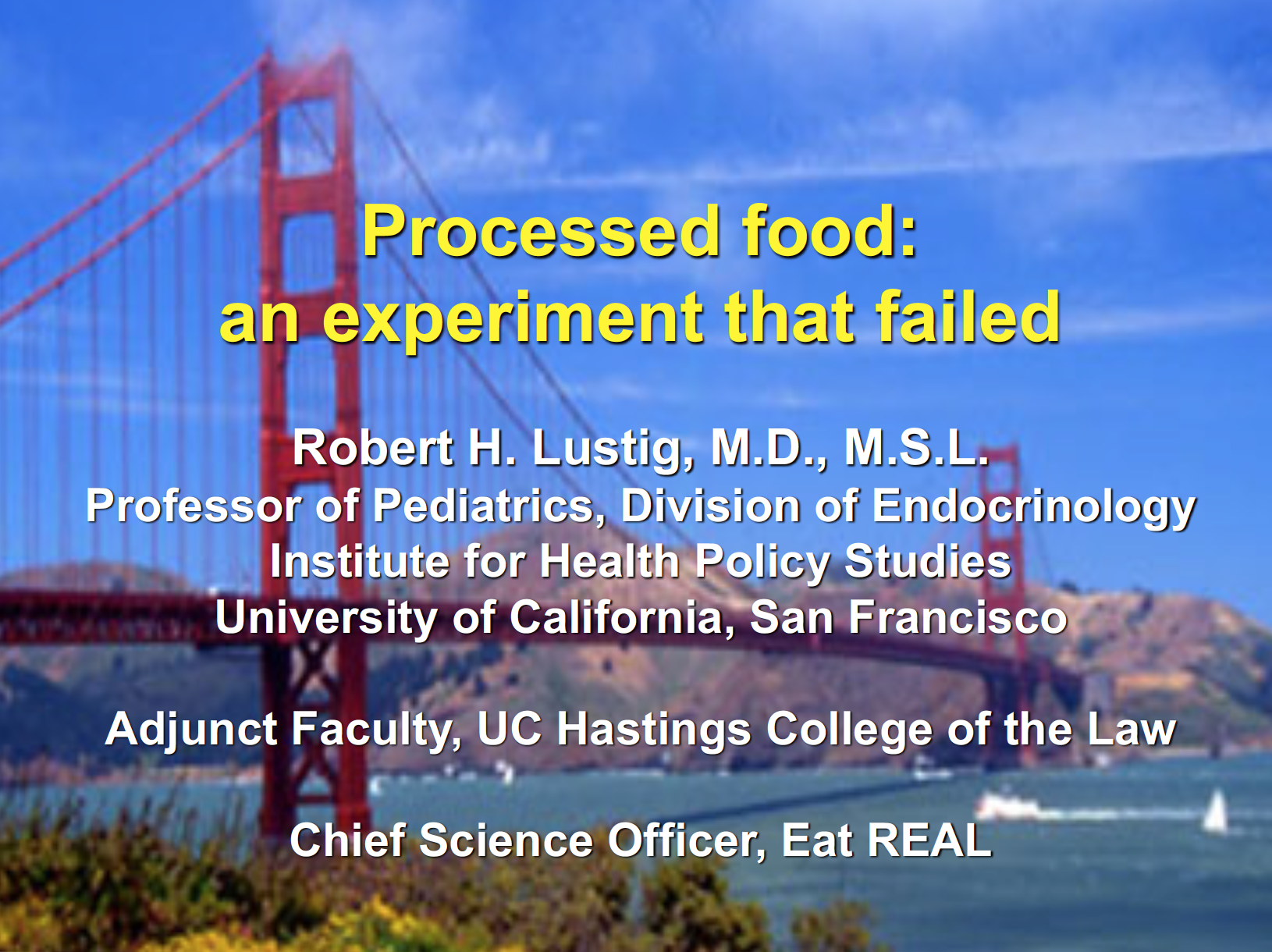 View Dr. Robert Lustig's
Powerpoint presentation
by clicking on the image above.
"The foods most at risk happen to be those most processed, dense in calories, highest in profit margin, and sold mainly by the major industry players." 
Processed Food: An Experiment That Failed
Anyone who follows the work of Dr. Robert Lustig knows he has been talking about the health issues related to processed food for years. Just enter "Robert Lustig" and "Processed Food" into your search engine and you will find many references to his advocacy efforts in this area of metabolic health and nutrition. Is processed food an experiment that failed? Processed food, alias "Big Food" has hacked our happiness and uses propaganda and misinformation to addict millions to foods that destroy their health. Read, view and learn from the resources posted here, and decide for yourself.
"Many industries have marketed dangerous products to unsuspecting consumers, but no industry has provided more disinformation than the processed food industry. And no ingredient has fueled more morbidity, mortality, and economic havoc than sugar." 
Read: Big Food's Poisonous Propaganda
Here is excerpt from Dr. Lustig's paper in JAMA Pediatrics – Viewpoint: Processed Food: An Experiment That Failed
"Those of us who have participated in science know that 9 of every 10 experiments are failures. Now imagine that the last 50 years has been a grand clinical research experiment, with the American population as unwitting participants, conducted by 10 principal investigators—Coca-Cola, Pepsico, Kraft, Unilever, General Mills, Nestlé, Mars, Kellogg, Proctor & Gamble, and Johnson & Johnson. In 1965, these corporations posed the hypothesis that processed food is better than real food. To determine if the experiment was a success or a failure, we have to examine the outcome variables. In this case, there are 4: food consumption, health/disease, environment, and cash flow, divided into companies, consumers, and society." 
Here are two key presentations by Dr. Lustig at Stanford and the international Eat Forum:
ADDITIONAL RESOURCES
More from Dr. Lustig
Understand Processed Food and Processed Food Addiction from a Scientific Perspective
Establishment of NOVA Food Classification framework, developed by team at University of San Paulo under the leadership of Professor Carlos Monteiro)
NOVA system identifies four categories of processed food: 1. Unprocessed or minimally processed foods, 2. Processed culinary ingredients, 3. Processed foods, 4. Ultra-processed food and drink products.
A new classification of foods based on the extent and purpose of their processing, by Carlos Augusto Monteiro, Renata Bertazzi Levy, Rafael Moreira Claro, Inês Rugani Ribeiro de Castro, and Geoffrey Cannon
Processed Food Addiction: Foundation, Assessment & Recovery by Joan Ifland, PhD
Processed foods and food reward by 

Dana M. Small & 

Alexandra G. DiFeliceantonio

Characterisation of UK diets according to degree of food processing and associations with socio-demographics and obesity: cross-sectional analysis of UK National Diet and Nutrition Survey (2008–12) by Jean Adams and Martin White
"This is the first study we are aware of to explore correlates of processed food consumption, using individual-level data from a large, national cross-sectional sample. Unprocessed and minimally processed foods, and diets relatively high in these foods, tended to have the most healthful nutritional profile."
Association Between Ultraprocessed Food Consumption and Risk of Mortality Among Middle-aged Adults in France by 

Laure Schnabel,

 

Emmanuelle Kesse-Guyot,

 and 

Benjamin Allès

Hyper‐Palatable Foods: Development of a Quantitative Definition and Application to the US Food System Database
Articles & Links
The Perils of Ignoring History: Big Tobacco Played Dirty and Millions Died. How Similar Is Big Food? – Kelly Brownell & Kenneth Warner
11 Ways Processed Food Is Different from Real Food by Sara Miller in LiveScience
'Ultraprocessed' Foods Make Up More Than Half of Americans' Diets by Sara Miller in LiveScience
The Role of the Food Industry in Creating Food Addiction – Michael Moss and Dr. Mark Hyman
The road to Alzheimer's disease is lined with processed foods by Dr. Lisa Mosconi in Quartz
Profits and pandemics: prevention of harmful effects of tobacco, alcohol, and ultra-processed food and drink industries, Lancet
Chronic Disease, Changing Diets and Sustainability The Globalization of Western-style Eating and Its Implications
The big issue is ultra-processing, by Carlos Monteiro
The Dorito Effect by Mark Schatzker
Ultra-Processed Foods a Huge Chunk of American Diet by Ashley Welch, CBS News
The United States has an Epidemic of Processed Food — and it's Killing Us by Manya Goldstein, Medium / Health
Modern diets could be killing us, suggests major study on ultra-processed foods by Laura Donnelly, The Telegraph
Here's why you don't feel full after eating junk food, Huffington Post
Processed Foods Make Up 70% of the U.S. Diet, Marketplace News
A New Theory of Obesity: "Ultraprocessed" foods seem to trigger neural signals that make us want more and more calories, unlike other foods in the Western diet, Scientific American
Research
Books

Food Addiction Resources

Robert Lustig Presentations
Nutrition Education
References from the paper "Ultra-processed foods: what they are and how to identify them"