Dr. Aseem Malhotra addressed the European Parliament on February 26, 2019 – see the video recording to on the left side of this screen. You may view his powerpoint here as well.
"The science of reversing type 2 diabetes with a low carbohydrate diet (and overcoming opposition from vested interests)"
[pdf-embedder url="https://robertlustig.com/wp-content/uploads/2019/03/Aseem-Malhotra-Parliament-Talk.pdf" title="Aseem Malhotra Parliament Talk"]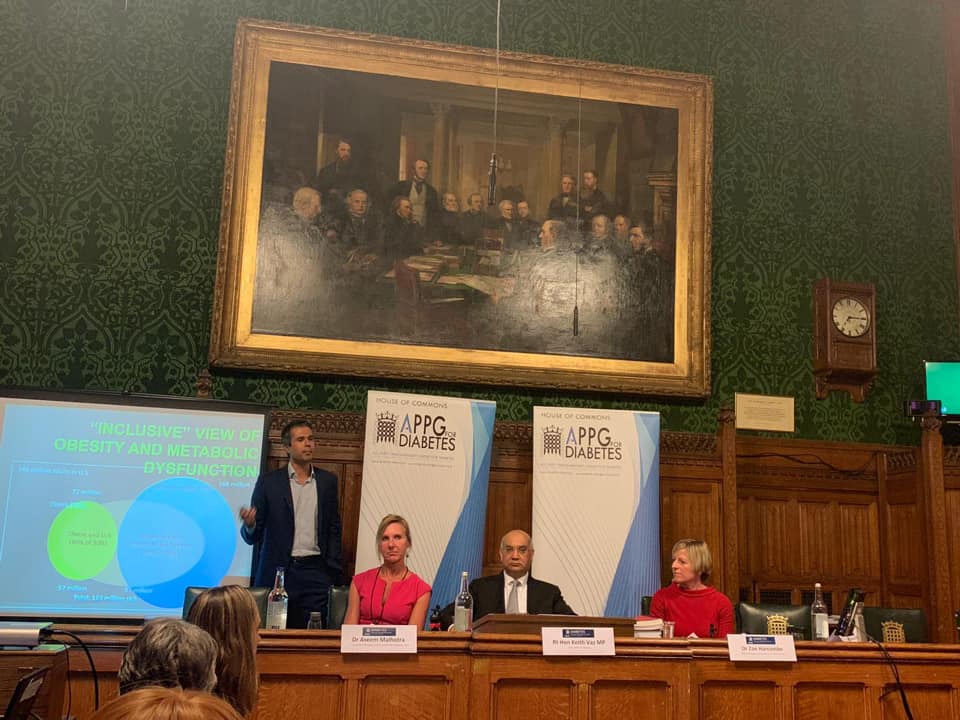 Dr. Aseem Malhotra
Honorary Consultant Cardiologist, Lister Hospital Stevenage
Academy of Medical Royal Colleges Choosing Wisely Steering Group
King's Fund – Member of Board of Trustees
(With special thanks to Professor Sir Muir Gray, Dr. Robert Lustig, Professor Simon Capewell, Dr. Kevin Hall, and Dr. David Unwin)
Dr. Malhotra pulls no punches.
"This evening I had the honor of speaking In parliament to a packed audience of MPs, lords, healthcare practitioners, and members of the public including Dr. Michael Moseley. There were no holds barred in calling out dietary misinformation coming from the establishment including Public Health England, ignorant scientists and the British Dietetic Association. Evidence based medicine has been hijacked by commercial influence but we have the solutions to fix this broken system and we must. It was also a pleasure to meet with a very receptive and friendly Secretary of State for health who was delighted to receive a copy of the Pioppi Diet. He also promised he would watch my talk and that of Dr. Zoe Harcombe that has been recorded by Ivor Cummins for you all to see soon. Special thank you to Tom Watson and Keith Vaz for making this happen!"
-Dr. Aseem Malhotra
Intro by MP Tom Watson