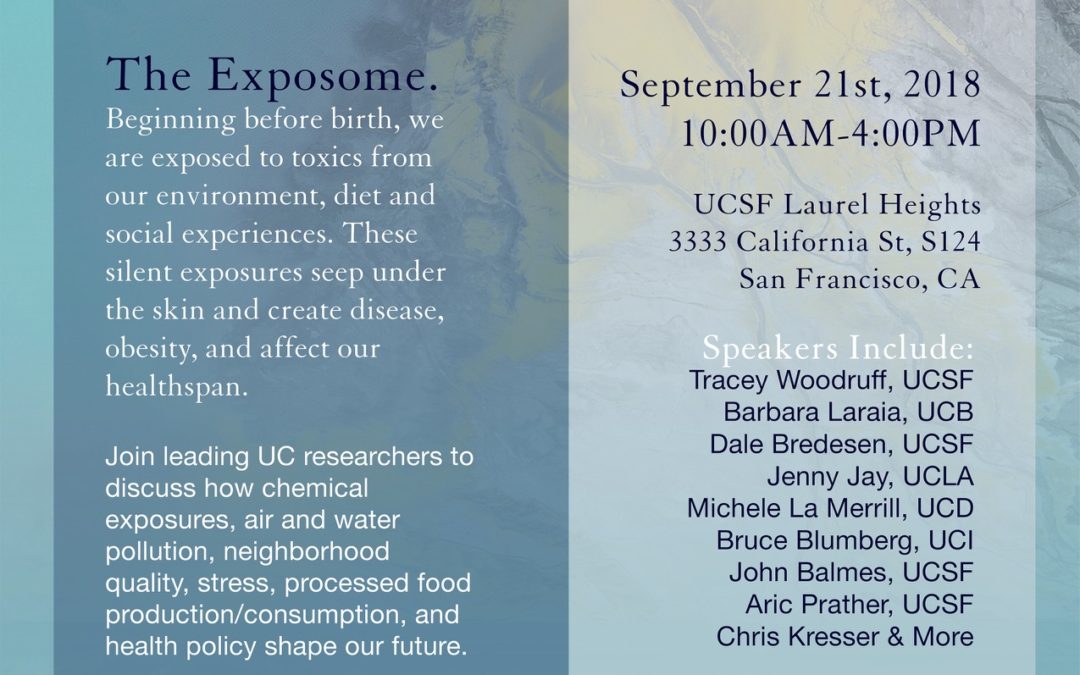 UCSF to Lead The Exposome & Metabolic Health on September 21, 2018
Livestreamed Sugar, Stress, Environment and Weight Symposium Fuses Research and Action
UC San Francisco experts on environmental exposures, social adversity, and health policy will lead The Exposome & Metabolic Health on Friday, September 21st at UCSF Laurel Heights Auditorium from 10:00 a.m. to 4:00 p.m. (PT).
The event, the twelfth annual COAST/Sugar Stress Environment, and Weight (SSEW) Symposium, will unite researchers, healthcare providers, environmental health, and policy advocates from across the UC Campuses in a day-long conference focusing on how exposures from our environment, both chemical and psychological, get underneath the skin and affect human metabolic health and obesity.
Obesity and related chronic diseases, such as type 2 diabetes, are some of the leading health crises of the 21st century and scientists are still trying to understand how our 'exposome' may play a key role. The exposome encompasses all exposures within the human physical and social environments, including air pollution, chemicals, pesticides, processed foods, chronic stress, and even our neighborhoods.
In-person registration is free to the public and a free livestream link is offered to those who register through Eventbrite (www.exposomehealth.eventbrite.com)
"We are at a critical moment in the history of human health and the environment, and the science we will discuss is of utmost important to public health, policy, and individuals. We must raise awareness of how our air, our food, and our social environments are impacting our health in dramatic ways, affecting us now and affecting the next generations," says Elissa Epel, PhD, Professor of Psychiatry and Director of the UCSF Consortium for Obesity Assessment Study and Treatment (COAST): "This symposium will cover critical new science and policy actions that are of interest to all, from students to scientists to our grandparents".
Speakers and panelists will describe the wide reaching and invisible impact of social stress and environmental toxics in our air and food on obesity. "Science shows that we are all exposed to multiple industrial chemicals, many of which are a concern for metabolic diseases. Pregnant women, children, communities of color and low-income communities can be more impacted by these exposures increasing the urgency to take actions to prevent harmful exposures" said Dr. Tracey Woodruff, Director at UCSF Environmental Health Initiative, co-sponsor of the event.
Highlights include:

Understanding our "social exposome"

Understanding interdependence with our food systems


Understanding the impact of our personal choices

Understanding how chemical exposures work in the body

Understanding policy implications and actions
If you can't make it in person, consider watching the talks live, or logging into Facebook and visiting the UCOP Page (facebook.com/universityofcalifornia) from 12:30pm-1:00pm and ask questions to researchers during a Facebook Live Panel.
Topics include how environment, diet, and social experiences affect the health of the next generation.
Panel moderated by Elissa Epel, PhD, UCSF and includes:
The Exposome & Metabolic Health is sponsored by COAST, SSEW, the UCSF Nutrition and Obesity Research Center, and the UCSF Environmental Health Initiative and the Center for Health and Community at UCSF.  It is led by Drs.Elissa Epel, Laura Schmidt, and Samantha Schilf the Executive Director of the SSEW Initiative.